Kemdrain™ stainless industrial floor drains and linear channels offer all the benefits of 316L Stainless Steel for the strongest, hygienic and durable industrial drainage in Australia.
MM Kembla have been providing cost-effective and dependable plumbing and drainage solutions since 1916. This experience and knowledge has been combined with European engineering to produce KemDrain™ Stainless Drainage solutions.
KemDrain™ Stainless offers you peace of mind and the simplicity that you want.
Kembla provides full project design support to assist with product selection, project specific written warranties and installation training, as well as warehousing and after sales support locations across Australia as part of Kembla's renowned customer service offering.
KemDrain 316L Stainless Floor Drain
KemDrain 316L Stainless Steel Floor Drains are manufactured from the highest quality material and have been designed to be hygienic and hydraulically efficient as well as being fast and easy to install. KemDrain floor drains are in 200mm and 300mm round or square top designs and a wide range of accessories including grates, waste baskets, traps, secondary strainers and 110 or 160mm outlet options. If it's high strength, durable and industrial quality floor drains you are after, KemDrain provides you with simplest and highest quality solution stocked at MM Kembla for immediate delivery nationwide.
Food and beverage processing
Abattoirs
Laboratories
Wineries
Breweries
Plant rooms
Clean rooms
Laundrettes
Hospitals
Commercial kitchens
Watermark certified (Watermark No. 23231)
Manufactured using high quality 316L grade stainless steel
Low carbon content of 316L stainless steel eliminates carbide precipitation at welds during manufacture, improving corrosion resistance
Increased molybdenum contact increases corrosion resistance
All KemDrain Stainless products are thoroughly cleaned, pickled and passivated to ensure optimum corrosion resistance
Fast and easy installation
Hygienic design features
Hydraulically efficient
Manufactured from 1.5mm 316L material for strength and durability
Quality TIG welded construction
200mm and 300mm inlets with square and round tops 110mm and 160mm outlets
Provisions for fixing of optional tamper proof secondary strain screens in outlets
Epoxy filled edges are standard on square top drains and solid stainless steel edges are standard on round top drains, ensuring easier installation and improved durability
Range of grates to suit various traffic conditions and loads, in including anti-slip surfaces
Optional low profile or deep, high capacity strainer baskets
Full 75mm seal depth, Watermark compliant, removable water trap options, with easy clean functionality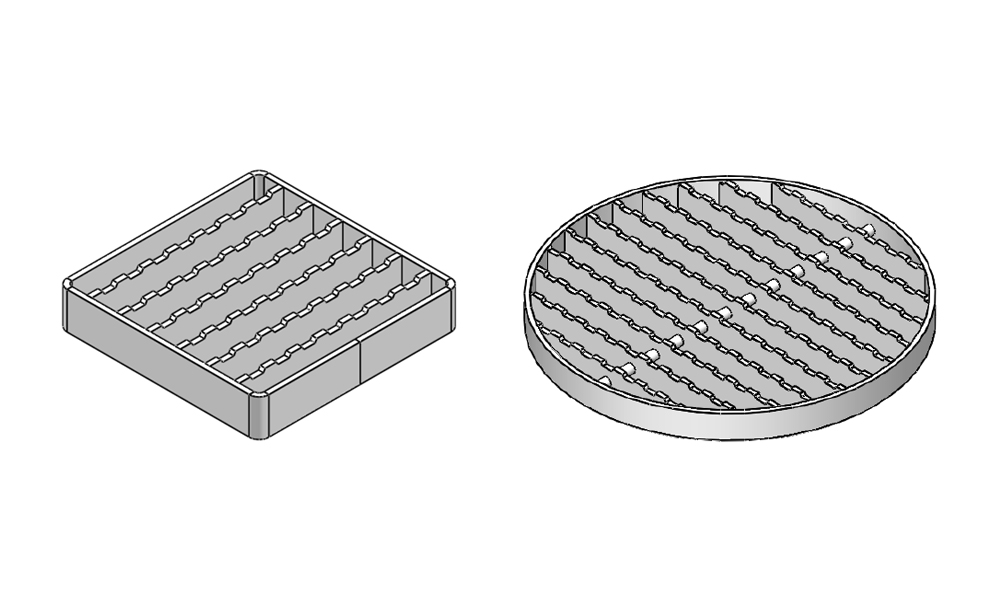 GRATE
Grates are available in various shapes, dimensions and finishes. The gratings are selected according to the loads and location of installation. Grate types include: anti-slip mesh, anti-slip ladder, plate and perforated sheet. Nominal 200 mm and 300 mm sizes are provided in square and round shapes.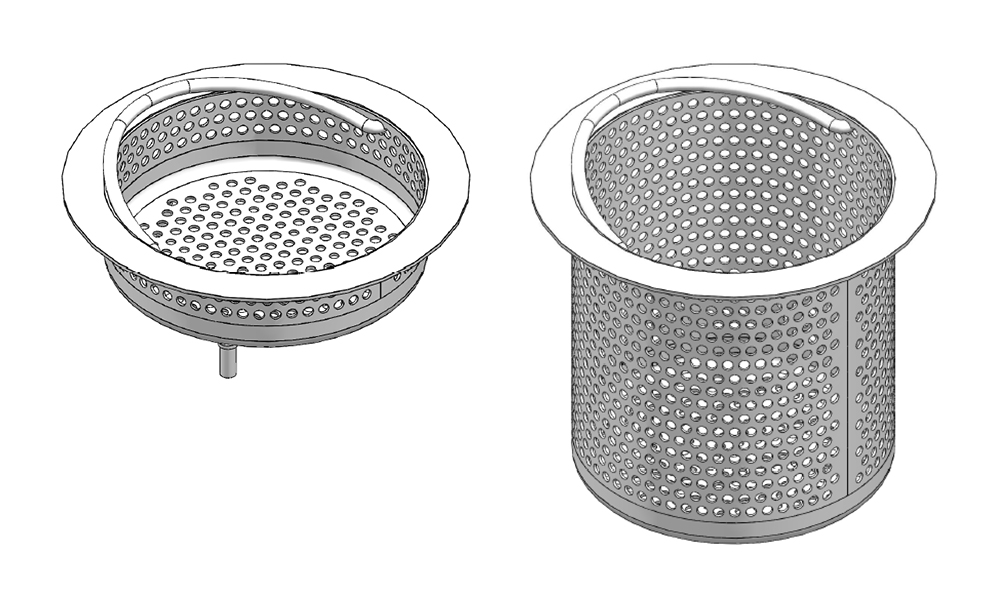 WASTE BASKETS
Waste baskets provide point source control of solids, preventing overloading sewers and waste water treatment plants. Use shallow version with internal water trap or deep version by itself. 4mm or 2mm perforations available.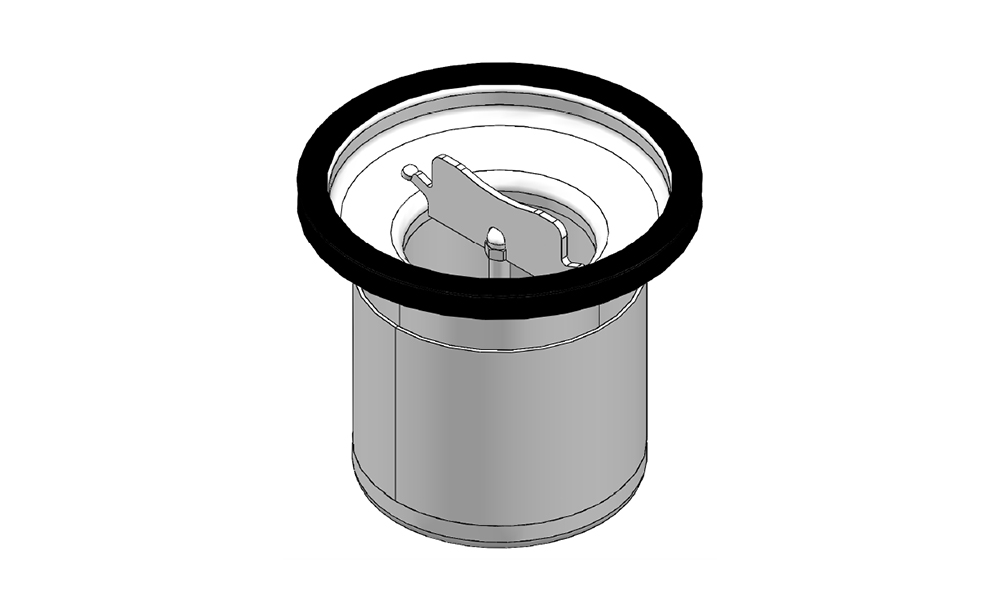 TRAP
KemDrain Traps are very functional and easy to maintain. Watermark approved 75 mm water trap depth prevents the discharge of foul odours from the sewer. Easy removal for access to the sewer and quick cleaning. Must be used with shallow waste basket.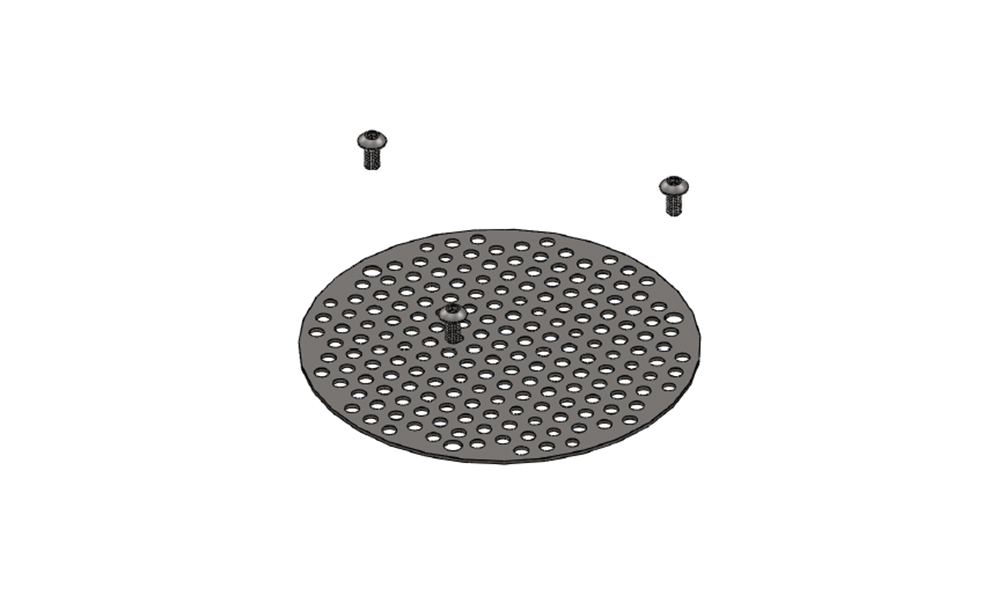 SECONDARY STRAINER
A secondary strainer reduces the risk of unintentional discharge of solids to the sewer during cleaning and maintenance. Welded locking ring and tamper resistant screws secure the secondary strainer in position. 4mm or 2mm perforations available.
BODY
It's round shape and smooth radius bends are hygienic and efficient. Weld joints are ground to remove sharp edges to ensure safe installation and cleaning. Epoxy filled edges are standard on square top drains and solid stainless steel edges are standard on round top drains, ensuring easier installation and improved durability. Nominal 200 mm and 300 mm inlets in square and round shapes are provided.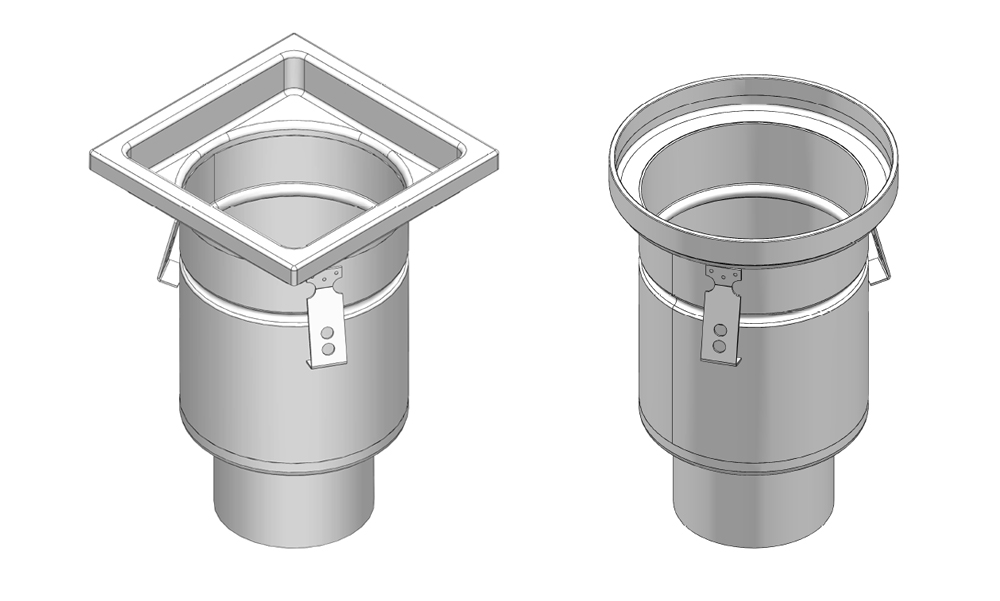 OUTLETS
DN100 with 110 mm outside diameter and DN150 with 160 mm outside diameter are available.
LOAD CLASSES FOR GRATINGS
The selection of grating and associated load class is the responsibility of the designer. When selecting the correct load class of grating, factors for consideration should include, but not limited to:
How will the grating be loaded? Will it have a point load or distributed load?
Will there be wheel loads, if yes what wheel type and size?
What will be the frequency of the load application, several times a day or even several hundred times a day?
Please note that the stated load classes are assumed for ideal load conditions (static). In reality the loads on gratings are much more complex (dynamic). If in doubt a higher load class should be considered.
LOAD CLASSIFICATION OF COVERS AND GRATES
(Partial Extract of Table 3.1 from AS 3996-2006 Access Covers and Grates)
| Class | Typical Use | Nominal Wheel Loading kg | Serviceability Design Load kN | Ultimate Limit State Design Load kN |
| --- | --- | --- | --- | --- |
| A | Areas (including footways) accessible only to pedestrians and pedal cyclists and closed to other traffic (extra light duty) | 330 | 6.7 | 10 |
| B | Areas (including footways and light tractor paths) accessible to vehicles (excluding commercial vehicles) or livestock (light duty) | 2670 | 53 | 80 |
| C | Malls and areas open to slow moving commercial vehicles (medium duty) | 5000 | 100 | 150 |
| D | Carriageways of roads and areas open to commercial vehicles (heavy duty) | 8000 | 140 | 210 |
SLIP RESISTANCE FOR GRATINGS
The slip resistance of pedestrian surfaces can be measured using AS4586 and the oil-wet inclining platform test. Ratings are calculated according to the angle achieved in the test, with R9 classified surfaces achieving the lowest level of grip and R13 classified surfaces achieving the highest level of grip.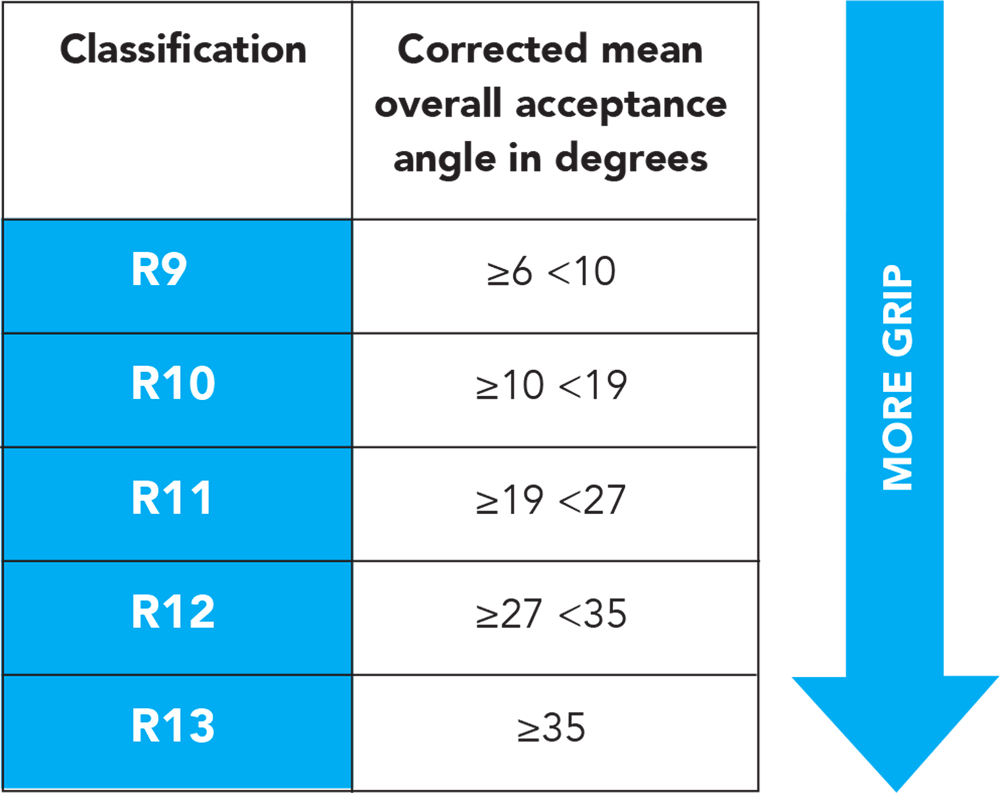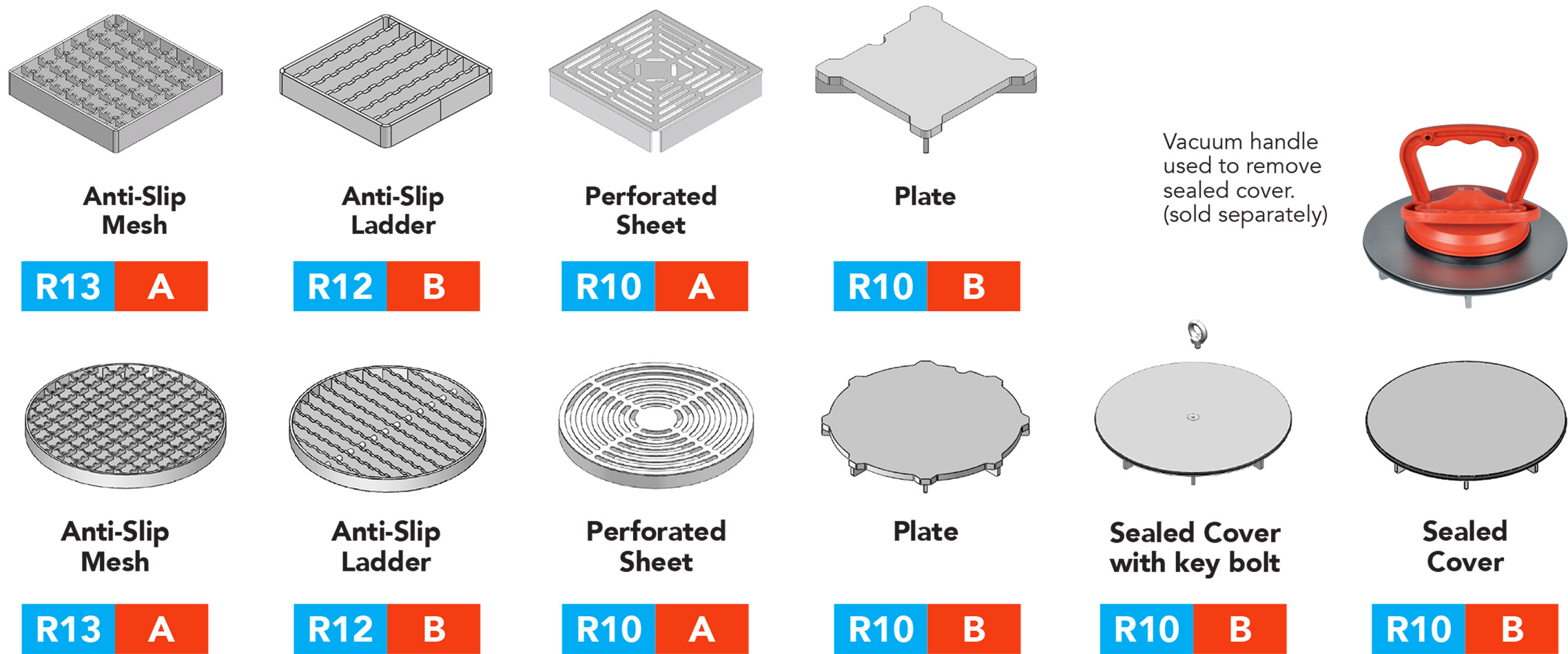 KemDrain Floor Drains – Product Tables
KemDrain 316L Stainless Linear Drainage Channels
Manufactured from the highest quality 316L Stainless steel, KemDrain linear drainage channels and slot channels provide a strong, durable, hydraulically efficient, hygienic weld-free solution for industrial drainage applications. Custom made and with a range of channel sizes, grate and outlet options available; Kemdrain provides a complete drainage system solution with no hidden extras and the simplest and fastest installation process.
With a fast and simple quote, design and approval process we deliver your KemDrain linear drainage channels within 3-4 weeks from sign off of designs. To request a quote for your next project, complete the KemDrain Quotation Request Form and send it to sales@kembla.com.au.
GALLERY
SUPPORT: DOWNLOAD FILES
Australian, New Zealand, European & American standards brochures