MM Kembla are pleased to announce the new range of KemPress DN65, DN80 & DN100 fittings and tooling. Maintaining the benefit of a universal copper press-fit system and a high quality faster, easier, flame-free connection for large diameter plumbing systems.
Water fittings are available from 16th November 2015 with gas fittings coming soon!
Check out the entire KemPress range and get the updated installation guide and product list HERE!
NEW DN65-100 FITTING DESIGN
The new fitting design consists of 3 internal components:
EPDM O-Ring seal suitable for use on standard water applications
Stainless steel grip ring with 2 rows of teeth that grip onto the copper tube when fitting is pressed to create a high strength connection and achieve the required pull out strength as per AS3688.
Separating ring to ensure the uninterrupted pressing of the main sealing elements (O-ring & grip ring)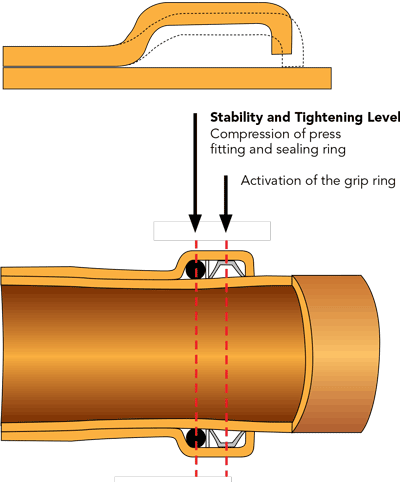 DN65-100 fittings are to be pressed with new KemPress collars and ZB203 adaptor jaw suitable for use with the KPL tool.
NEW DN65-100 COLLARS & ADAPTOR JAW
New DN65-100 Collars and ZB203 Adaptor Jaw are required to press KemPress DN65-100 fittings. The KemPress Collars are placed around the fitting, and then engaged by the ZB203 adaptor jaw which attaches to the KemPress Large Tool (KPL). These will be sold as kits containing the following:
65mm Collar
80mm Collar
100mm Collar
ZB203 Adaptor Jaw
Kit Case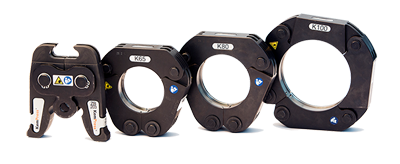 UNIVERSAL COMPATIBILITY
The KemPress copper press-fit system continues to provide universal compatibility with other press tools in the market. Fittings have been designed to be compatible with the following tooling:
KemPress Large Tool (KPL & KPL2)
Viega 4B Tool
Rothenberger Romax 3000
CERTIFICATION & TESTING
KemPress DN65-100 fittings have achieved Watermark certification and conform with AS3688 and AS4020 requirements. Manufacturer batch testing exceeds the requirements of AS3688 and must adhere to strict MM Kembla quality control systems and testing performed by MM Kembla.
WILL CURRENT KEMPRESS DN65 FITTINGS AND COLLARS WORK WITH THE NEW RANGE OF COLLARS AND FITTINGS?
Due to the new design of fitting to ensure universal compatibility with other tooling available in the market, existing DN65 fittings cannot be pressed with the new collars and the new collars will not press the current DN65 fittings.